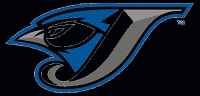 I've been meaning to start a blog for months.
Not because I want you to know what I'm thinking. Because I talk enough as it is and luckily thanks to great peers, good friends and a loving spouse I know that I'm not as smart, interesting or witty as I think I am.
But.
I think life is truly beautiful and the lessons I learn each day resonate with others and in turn help them teach me more.
Today was another day of learning.
It's the start of the G20 in Toronto which is starting to look like a middle ages castle complete with drawbridge and hot lead ready to pour.
I committed my evening to raise money for a charity at the Blue Jays game with 30 other volunteers. Most were giggling or gawky teenagers who didn't really care about being there. My team member and I did pretty well and noted the one old guy who loudly declared he would go it alone.
After our volunteer time we were given free tickets to watch the rest of the game. A few of the teenagers just up and quit in the middle of our duties, a disgrace in my book. None stayed for the game.
Who sits down next to me but the 'old guy'. We spent some time together and he shared tips on his sales techniques, many other volunteer positions and his joy in helping many charities. Turns out he's down on his luck right now and staying at a shelter. One could debate how wise he could possibly be with a current situation like this…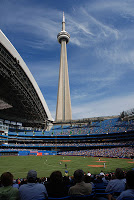 But he out-raised every human being in that room by 3 to 1.
Lesson Learned: Most people, (especially me) aren't as smart as they think they are.
Thanks to the folks at Heart and Stroke Foundation for the chance to make a difference and enjoy a great evening at the ball park.