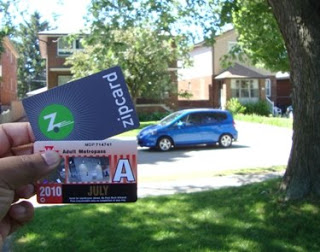 These two cards allow you to rule the city of Toronto!
So it's no secret that I use and love Zipcar
I haven't paid for gas for work and a lot of fun since 2006.
You say the HST increases the price of gas?
Not my concern.
Being on a Metropass instead of tokens is a way of life. Jumping on and off the subway for meetings, shopping, going out and at any time walking up to a car when I need one and driving has been liberating.
Been thinking about it? Take the quiz… is Zipcar for me?
Or of course, send me an email or call me and I would be happy to answer all your questions about how this program has improved my quality of life.
Here's a little secret too. Yes you're saving money. Yes you're helping the environment. BUT! Have I had a blast driving brand new smartcar, prius, mini, mustang convertible, bmw, and every great sedan on the market? Heck yeah! They're always clean and I don't have to maintain them. For those of you who use cars to visit clients, donors or for work, this is the program for you.
Now, I'm not going to bore you with the story, but in June, I had a car accident where I could have easily died. I was in a Zipcar. Although I'm still dealing with the mortality issues of the accident – the Zipcar insurance process was unbelievable. In fact for just $70 a car my damage deductible is $0. Yes it's true. I had the unfortunate opportunity to test it.
I'm all about customer service. I hold the companies that take my hard earned cash to a high standard and the GOLD standard has been Zipcar for years. You simply cannot understand the kind of service you get until you join or call.
Now, ok, for those "family folks" I know it's hard with family but why not dump the second car?
We love our car,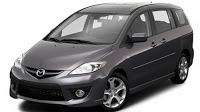 in fact I bought it because I used originally as a Zipcar ( it's Canada's smallest, most fuel efficient and fun to drive Microvan ) – the Mazda 5
If you have a young family, watch this video and understand.
You can't fit an infant car seat in a sedan and still enjoy driving!
Now the payoff. What if joining was free? It's $30 to apply but if you use my personal referral ( I hope this button below works, otherwise email me ) you get a $50 credit!
Change your life today. Join Zipcar.