This past week I got the chance of a life time.To speak to myself at age 20. Kind of.My alma mater, New College at the University of Toronto was running a very dynamic student leadership symposium and gave the honour of being the speaker at the closing reception.To speak to young people who are so full of powerful potential – who all attend an institution that truly changed my life for the better has been something I've always wanted to do.It went quite well, I'm already engaged in helping several of the attendees but in case the words can help anyone else – here's a short version of that talk: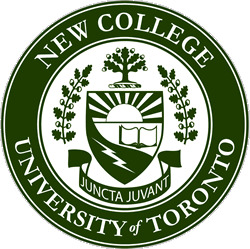 A French diplomat known for deep thinking once said "I'm more afraid of an army of 100 sheep lead by one Lion Thank an army of 100 Lions lead by one sheep" You've spent the day considering the lion in you and what army you may be called to lead. I'm here today because I have studied people, I work with a lot of them, rich and poor, young and old and I have learned from every single one – my life motto is "if hindsight is 20/20, I want to have the clear vision of other's learned wisdom". I hope a little of what I have learned since I left the seat you're sitting in can be of help to you today and tomorrow.
I will share with you two secrets, two dangers, two life changing tools and one challenge. It is my hope that it will have a positive impact on your life. Secret one – the secret of the rich – ten people – meet here on campus. Student councils, residence groups, sports, debating, art, ping pong, gay cinema – whatever. They share values, interests, and build trust before getting the all important diploma. Go separate ways. Five years pass, one gets another a really good job, two are dating, one is overseas, two enter school – business/masters, the rest are bums working at Starbucks, Tim Hortons and heaven forbid, Coffee Time. Ten years – lawyer, married, children, more job help, bums turn into mechanics, doctors, business owners, real estate agents, financial planners.
When you need these professionals in life, you go in search of someone you trust. People would always rather do business with someone they know to be trust worthy. Look to your left and right – here they are. I'm here today as living proof, you see I was one of the bums.
I had 30+ friends in the group. Next month we will gather just off campus and celebrate 15 years of friendship. 8 of those friends are married to each other. I met a wonderful woman at orientation, became friends in the commuter lounge, started dating after become student leaders together and now we are happily married. We are one of four new college relationships started through study groups, dragon boat and volunteer events just like this one. Tomorrow ladies and gentlemen I will MC the wedding of a New College friend – much of that original group that met through New College leadership will be present. Would you like this to be your future? First let's talk about Secret two – The fleeting power of youth. You will only get one "first". First job, first career, proposal, marriage, baby, house, car – these are magic moments and what young people don't know is that when we are young and broke these firsts possess a power over the older and successful. They want to feel that energy, rejoice in your success, take part in your joy – all you have to do is let them in. It's the reference from the New College mentorship program to get your first job. Help from a UofT contact for your wedding. A tip from an alumni to join a board. Let people help you and do it for others and you'll keep that magic in your life. After my wedding my good friend and I created a concept we call wedding whisperer's. I've worked on 30 weddings in 6 years, MC'd 6 new college weddings and saved my friends time, money and helped them enjoy their special day. Make no mistake, I had a heck of a lot fun while doing it too because these are my strengths put to good use.
On to the dangers. Danger one – walking off this campus with nothing but that piece of paper. Make no mistake folks, there is money and success in volunteerism, not just good on the resume but leadership and management experience will boost that salary, get you that job and help you close that sale. I volunteered for a charity called gratitude and worked the phones, honestly for a bucket of chicken for my friends for dinner one night. It turned into a career in non-profit and the adventure of a life time. I have touched over 100 million dollars in donations, met celebrities, important people and launched the campus dreams of hundreds, including my own which involves a renovated commuter lounge when I die. So! Find your fetish, something you really love, unhealthily love, is it chess at Hart House, whiffle ball at the AC, something nasty to do with poetry on the other side of Queen's park where those dirty artsies hang out? Do it for love, the philosopher's stone was said to be the mythical element that helped transform lead into gold – in the world of jobs Vs. Careers that element is passion and passion is just another word for I love it so much that it makes others uncomfortable. Don't let academics, staff, registrars, parents or yourself fool you into thinking the paper or the letters behind your name is the only reason you're here. They are only half the reason – finding out what exactly your super power is and how to use it is the other half. Don't neglect either. Danger two! The tyranny of choice. Your parents like to give you a hard time because they had no choices and you have every one in the world. How is that easier? We are an ADD society, if you are bored for more than on millisecond there's app for that. Dream big, follow that passion but here's the trick to making sure you eat at the end of the day. It's called the informational interview – find the person with that job who loves it – meet them for coffee – CEO or Zoo keeper and ask them to complain about how long it took them to get here. Through their complaints they will reveal the secret to your success. Ask them what you should be doing with the next five years to get to where they are and they'll coach you, help you make it happen – that magic of "first" I talked about. Commit to the now work hard in the moment but plan for the future and work on it a little every day. If you want a salad you don't plant tomatoes at 8am and eat at 5pm. You want the good stuff, it takes time, patience, cultivation. You want good, buy a salad at Metro. You want GREAT, be the farmer of your own success.
Today you spent time doing Myers Briggs and learning the concept of "mindfulness" – this is not hippie stuff people. Let me tell you corporations pay big bucks to have their leaders do this stuff because there is power in knowing yourself, what gives and takes away energy and how to focus that energy in a moment. It's the difference between punching a clock and being the office rock star. Life changing tool 1. Young alumni status. Don't waste it. One day UofT and New College will ask you for money. When I was on campus my friends and I "partook" in food at the end of a reception every night for three years – the world's cheapest meal plan. I met my wife in that quad, I met my best friend in that office, there were good times here. So I'll pay gladly. BUT when you get out and have nothing, know that UofT is here to help you get something! Mentoring programs, martini bar alumni events (called "shaker"), events in every major city in the world, an amazing alumni magazine, discount financial advice, life insurance, car insurance, email for life, a private club and athletics deals. Use it. If it does for you what it did for me – be ready to give when they call. If all you have in 20 years is that piece of paper in a frame on your parent's wall. That's your own damn fault.
Tool #2 – we're almost done. When we graduate, leave, get kicked out people move out of home, travel, get jobs it was really hard to keep in touch. Sure we have facebook but that's just too damn messy. There is a facebook of business and it's called LinkedIn. More powerful than a resume, it's a web 2.0 digital conversation about your passion and success. I have used it to meet heroes, authors, celebrities, mentors and reconnect with friends that I can now do business with – low maintenance – no Christmas cards, business cards, when things change in my life, city, job, face, you know, when I need you, we're ready to go. Caught up and all about making change.
But first my challenge. To find your passion, your method to find magic is through networking. I have all the books you'll need but mark my words, beware type A people. The secret of networking is that you have two ears and one mouth and you'll make money if you use them in that proportion. When working with the Vice President of the Student Council when I was Orientation Marshall I asked her how such a quiet person won a college-wide election and knows so many people, "she said, I feel it's better to be thought of a fool than to open your mouth and remove all doubt". I asked her, "are you talking about me"?! I married that woman. We made a great team then, make a great team now. So please live this challenge, do this for others. I have some prizes today, I challenge all the winners to figure out a way to use them to network! Use this gift cards to invite out a professor or a fellow leader and learn about each other. Thank someone who has helped you. These prizes were not solicited from businesses, my friends, hard working folks who work regular jobs like teachers, chaplains and a couple who work here at UofT gave me their hard earned money for the purpose of helping a student who was just like them. I come here today with over $500 in prizes given freely just by asking – hey guys can we help out others the way we were helped 15 years ago?
And so I leave you with a question – will you be a sheep or a lion? Will you follow or will you lead? The choice is yours, if you choose to lead, I'd be glad to help.———————A special thanks to all my friends who donated prizes to this event.
——–2011 Follow-up. A google alert turned up this blog post.
Nice to know an impact is made now and then.