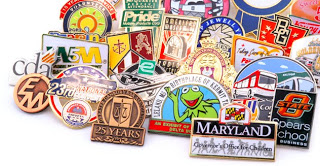 I hate pins
Yes everyone uses them
Yes, they are the charity
and community standard
I still hate 'em.
But even I can't ignore the pride when worn
the loyalty and brands they help build
the recognition they represent
Pins are powerful.
Soon, I will have to make some myself for work. But not today.
Today a peer of mine needed help and asked me for contacts. I know none.So, as always, I put out a call to the network for referrals!
I love doing this, let's see who has made an impression on their customers!
Here's what came back in 48 hours.
Every referral came with the testimonial of good price, on time and top quality.
Jeffrey Allan & Associates Inc.
www.jeffreyallan.ca
416-366-5333
Trevor Webster: 1.866.841.4560
http://www.kingpins.ca/
Tammy Todorwich, Presidential Environment Inc.
416-960-6317 ext. 221
tammy@presidentialenvironment.com
www.presidentialenvironment.com
Awards Canada
www.awardscanada.com
sales@awardscanada.com
204-237-7617
Katika Integrated Communications Inc.
www.katika.com
Andrew: 905.949.1020
Rideau Recognition Solutions ( Make the Order of Canada pin! )
Chris Adams: 1 (877) 789-0449 Ext. 404
http://rideau.com/
And then there's Brenda.
Brenda is the vendor. My network contact sent my email to her.
Not only did Brenda email me, she called to follow up within one hour.
Good on my network contact, good on Brenda.
If I was quoting a job today, there's no question who would get the first quote.
Brenda MacDonald
PresidentCoyle & Greer
bmacdonald@coylegreer.com
1-800-265-7083 Ext. 233
www.coylegreer.com
www.awards4me.com
Thanks network!
I still hate pins.