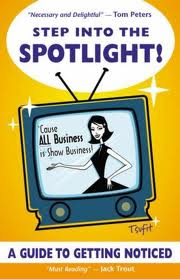 Originally read Feb 2010
Step Into the Spotlight: 'Cause all business is show business.
I KNOW what you're thinking.
Even the author admits "I should sell this book in a brown paper bag" because no one will read this in public.
Even I let it sit and then read it in private – the title insinuates shallow promotion. WRONG AGAIN.
This book should be titled, "tips for real human beings who work in client service, want to stand out and not be phony".
It is the sharpest book I've ever read on being your best professional self, heck it's helped me to be "on" much less.
Two side notes: 1) If you are a fan of "wise quotes to make you think" this book has over two dozen killer quotes peppered throughout.
2) I pity you if you take this as a negative but this book is surprisingly written by a Canadian!
Our culture, tons of good business references from Ontario you can learn from.
Probably the highest print quality Canadian book I've read in a long time.
If you serve clients, donors, customers – read this book to make better impressions, stand out and above the boring drone of your profession for the right reasons and oh yeah, make money/close gifts too.
The author is a high priced connecting consultant to those employed to do the above…
we got to chatting once about great reads..
Shame about the title though.