I don't usually put two books together but these books are both linked….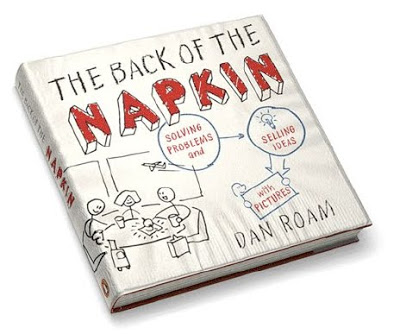 Recommended to me by consultants who highly value thoughtful strategy and clear communication.
Every once in a while I get through a book and it takes me twice as long, I take twice as many notes and when I'm done I think "oh crap, I have to own this book". The reason is that the ideas are so solid they are worth reviewing every quarter and learning over time.
THIS is one of those books.
For those who hate powerpoint, even more important for those ( like me ) who LOVE it. Not only will you get your point across better and more effectively you'll be understood more.
This isn't just about clear communication, it's about augmenting your thought process through visual thinking.
The simplicity of this book ( no drawing skills required ) is one of the most powerful aspects of the value.
If your goal is to master the whiteboard, to influence better, to do more, sell more and have more impact.
Get this book.
I am forever grateful to Lise Hanson and Gordon Brew for this and other book suggestions.
The second book is the perfect companion to Dan Roam's book.
This book is the "how to" of visual meetings although I really did expect mostly white boards and sticky notes – there was much more!
The book gave me some brilliant ideas on making meetings more "tactile" getting people up and moving and thinking. I liked the mental aspect of what draws us to participate ( because this keeps me up at night before presentations ).
One idea from the book ( making people vote physically with their bodies instead of asking for a show of hands ) was just what I needed for an upcoming presentation.
Lots of great ideas, good pointers on how to start practicing the drawing and habit of visual meetings.
For a visual book, it was a little wordy which is why it's not a MUST read but if you do a lot of presentations and want to connect better check it out.