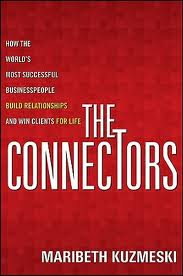 To not go broke I get most of my books from the library.
This book however is worth twice what you will pay for it.
I am simply ASTOUNDED at the value here.
2010 publication, Connecting 2.0
(yes overused term – this is for real )
This book goes so far beyond connecting and networking, honestly it's like ten books in one. Not only that but the book offers you about 12 valuable downloadable resources FREE.
Over 50 well researched quotes "In Other Words" at the end of each chapter will be of incredible value to speakers.
Chapter on listening could be a book in itself. And I've read five books on this topic – solid advice. Self assessment tool to boot!
An entire chapter on mentoring, finding and being a mentor. TWO downloads here, assessment on finding a mentor and how to run an effective mentor meeting.
Section on speaking…could be another book. More resources not just text on topic. I mentioned the quotes but there are also several well researched stories of great people that you be using in your talks this year for sure. I learned something fascinating about Wendy's founder Dave Thomas that I'll be using this week in a talk.
A review of the top ten social media and networking sites with a run down of WHY and how to use them! Now this was some serious value, I know the top five well but no one has ever sold me on the next five!
Maribeth has put together an entire section for financial advisors! More downloadable resources.
I just can't tell you how much I took away from this book on about ten topics.
Clear, quick read information. Value for dollar. Generous sharing of information on her site.
I am nominating Maribeth Kuzmeski for business sainthood.
When you buy a book for business you need to ask yourself will this book make me money?
This book will be worth it's weight in cold hard gold, not cash.
Check out the website: www.theconnectorsbook.com
Here's Maribeth herself to tell you more about the book: