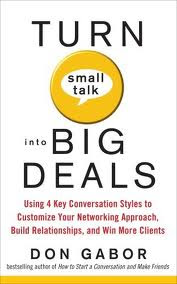 If ANY facet of networking annoys or mystifies you – this is the book to start 2011 with! WOW!!
This book has come the closest to rivaling my all time favourite networking book after now over 50 networking books read.
Let's dive in why:
The book starts with going beyond the "Type A Vs. Introvert" archetype and makes you do a survey to break us into four groups:
Competitive ( and can't help it )
Outgoing ( and loving it )
Amiable ( where most people who have a job and enjoy connecting fall )
Analytical ( where senior managers, leaders, data and process people live )
It goes on to share HOW to communicate and do business with each group ( this alone made it worth the read ).
Each chapter has pointers for each group on what to watch out for, even if you're a little of one or the other you'll find great value in these tips!
Actual step by step process to breaking into a "circle" or "cliqued group"
Social media tips ( actual suggested text )
How to identify and get away from noxious networkers:
The pirate, know it all, chatterbox, complainer, hitchhicker, gossip and shark
A lot of material on how to combat the 12 most common networking mistakes:
1) Events over planned action
2) Not doing the research on the prospect
3) Comparing to competitors
4) Unaware of technology / trend changes in your industry
5) Not doing the research on event/host/location
6) Not being of value, have material, leave behinds
7) Being clear how you make $ / What you want
8) Have a clear unique value prop
9) Criticizing competition
10) Treating competitors as adversaries
11) Ignoring others at event ( because you are arrogant )
12) Not connecting others naturally
How to work the following events or situations (and be aware of taboos):
Conferences, Trade shows, Association meetings, elevator, party, fundraisers, golf game, professional development courses, clubs, Churches, reunions, weddings, health clubs, sports evens and concerts
The depth and detail was simply astounding.
If networking is part of your job, you'll find huge value in this book!