*Note, here is an updated 2013 post* 
LinkedIn is the Facebook of Business. In August 2012 it crossed 175 million users. I am user 18,717,680 and joined in 2007. Hardly an early adopter. But I've read books on it, bumbled my way through the newbie mistakes and business faux-pas. I'm an unabashed fan, promoter and now speaker on how to use it for personal and professional success.
LOTS of changes to LinkedIn in 2012, here are my updated tips…click on the bolded links for great articles on each tip!! Don't forget to download apps for mobile use! 1) It's NOT a resume. It's a digital business card + opening conversation. Use the summary section to explain why you are the best at what you do and different than the million other people doing it. Personal branding is the goal! Integrate your networking style. Bold, clever, succinct, reserved – make it your words. For your organization or business a company page is a must in 2012. Anti-resume tip : Under work experience do not focus on your job description and duties – instead focus on accomplishments and skills that apply to your career growth 2) Newbie tip!! Don't EVER use the standard line "I'd like to add you to my professional network on LinkedIn". Change it every time. Let them know where you met, how you know each other and why you want to connect. In 25 words or less. This will get you a 90%+ connection rate. 3) You don't need to have a killer profile right away. Take your time but start today! Don't use start when you need a job. I didn't expand my original profile from just my name and work title for two whole years! Also, you don't need to upload a picture right away. Remember the picture is 1 inch squared, make it professional (no photos from weddings) but interesting. Not facebook interesting, something that says "I'd be an interesting addition to your team, I'm a professional, hire me".
4) Growing your connections list is the #1 new user stress. Here's my personal ratio: 95% people you know, 4% strangers, 1% heroes/mentors you want to learn from. Start with people you already know well, then people you've worked with in the past and of course people you know professionally now. What do I mean by heroes? People who lead in your sector, professional heroes or teachers. Remember though, follow your gut: Stranger danger! Ignore invitations from strangers and profile surfers. Connect first to well networked peers to save time looking for names you both know. This is business – always think about the ROI of time spent. 5) If you're reading this, you're seeking to understand the keys to the future of social business like me. So if you can, get your organization whether a for-profit company or social-profit charity involved! Turn your team into referral generators for business and staffing.  LinkedIn's SEO recruitment arm will change recruitment in 2013 – keep your eyes on them.
6) "Groups" and "LinkedIn Answers" are a huge amplifier of time invested. Again, connect to those in the know and join the groups they're part of. Answer questions in groups your network/clients/donors are most invested in at least once a month. Look at LinkedIn "Answers" in categories that connect to your business and answer questions with useful resources and you'll become known as a "go to professional". This will help you make more contacts outside your immediate network but in your sector. It will also help dynamic like-minded people find you. Me personally, I find groups better for sector networking and answers better for referrals 7) Recommendations are important. The magic number is 3 to 5 on a profile. Consider who you have made an impact on and ask them to write one for you – be specific about what business or characteristics you'd like them to highlight. Give them an out if they're uncomfortable. HR people are looking at LinkedIn first! Tip: Fastest way to get recommendations is consider who has made an impact in your career, connect and write one for them! 8) Have rules. Know who you don't want to connect you. Set a daily time limit
for use. Originally I started at 10mins a week to 30mins a week, to ten mins a day max. This is not Facebook! It is also addictive and can waste your time. As in your business life – follow the revenue line!! Time = money. A simple tool to manage all your social business media. 9) If you're a book reader, upload what you're reading ( in the Amazon reading list ) and favourite business books online to help others understand how you think and what you value. Again, it's about telling the story of your brand/character – Forbes Magazine is awesome at teaching this… 10) Even though it's no longer on your profile page. Use status update in your "home page" to provide business value, not updates on your life. Connect to a business-focussed Twitter account and you'll double your audience. In 2012, twitter and LinkedIn broke up, which is a great thing because people didn't know how to use them to compliment each other. If you want to read a book about the why and how of all social media and social business – Unmarketing is it I leave you with two great resources: LinkedIn's awesome video series for small business ( applicable to all ) The video below is not just for companies but organizations of ANY kind (charities, I'm speaking to you ).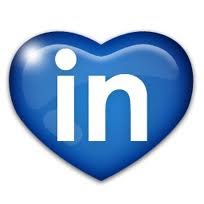 Hope it's of help and value… Contact me any time, and oh yeah, LinkedIn rules.