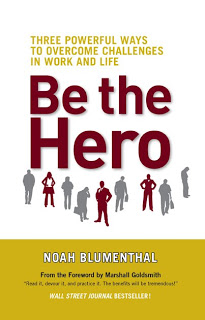 Be the Hero: Three Powerful Ways to Overcome Challenges in Work and Life
Six words: Change your stories, change your life.
I love fable format books.
This book was a quick read that will help anyone get out from under "victim thinking".
Most importantly it can help you dissolve bitterness and have a hopeful outlook on the future.
I had to come back and change this review 24 hours after – as I started to apply the learning ( change: the stories I tell myself about me, situations, about others….) I had a wonderful experience and can feel a change in the way I relate to my immediate family, co-workers and my job.
Are you stuck in the middle of what you know must be a change in your attitude?
Get unstuck with this book!