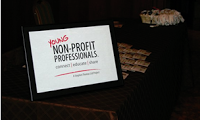 Another fantastic event by Stephen Thomas
for Young Non-Profit professionals
Ironic that it was held at a bar called "Proof".
Although the bar alludes to Vodka, this event to me is proof that someone out there is willing to invest in young talent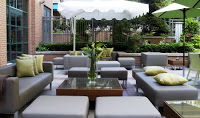 at a time when the sector is grinding them up like sausage meat. Took guts to make networking the main event. And damn it worked!
But I digest….
Thoughts from a ni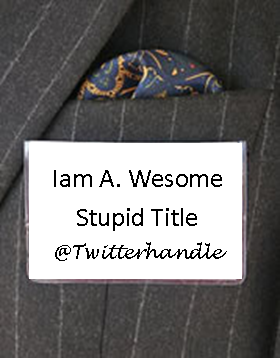 ght of high impact networking…
Several people commented that I cheated
and brought my own nametag
If you ever see me, I NEVER wear lanyards.
They are networking death
Always turned the wrong way,
they direct your attention down to the stomach
And I gots enough problems going on around there,
why direct your attention to the scene of the crime?!
BTW: Here's where to wear it….
No, we all have those "work" magnetic nametags now.
So….just take that one and slip it in the nametag!
Also, an idea discussed on Twitter by my social media mentors:
Leah, Kimberley and Claire – write your handle on all nametags!
More brilliance? Check out the five tips they sent out the day before:
1. Bring a stack of business cards, you just never know
2. Download the attendee list here
3. Like us on facebook, if you haven't already. (Facebook sucks, follow them on LinkedIn)
4. Are you on twitter? Use the hashtag #YNPcanada to find other YNP'ers
5. Got a smartphone? Download these 2 free apps: Bump & RedLaser
Take note AFP and CAGP conference committee's.
1,2 and 4 should be a "must" before all professional gatherings. Period.
L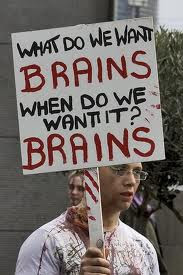 astly, I set up about 15 coffee meetings for later..
but a word of comment…
Can we retire the phrase "pick your brain"
Leave that to the zombies.
In the mean time, congrats ST team.
Another slam dunk.